Torsion Spring Lift Mechanism
The torsion spring lift mechanism would also include the cable and its drum as well as the tracks. The position and type of each of these garage door parts change in accordance to whether the door is a standard, vertical or high lift system and accordingly change how the springs work. With standard systems, the torsion spring spins at one side and remains still at the opposite side where the stationary cone is found. The movement of the spring turns the shaft, which goes through the spin and in turn moves the drum which will pull the cable. The job of the spring is to lift the door but also keep it on the ground when it is shut. For this reason, the weight of the door must be slightly heavier than the lift of the spring whereas the lift is the weight the spring can raise from the floor. This will ensure the door will remain shut and won't come up.
We Offer Same Day Garage Door Repair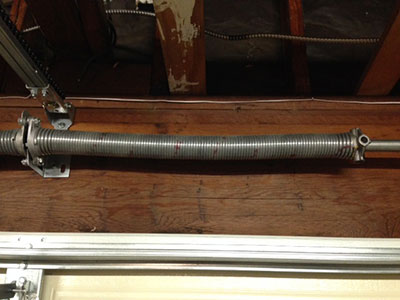 Every time the spring makes this movement, it loses some of its torque it produces. In other words, it loses some lifting power. It has to do with the way cable drums and the whole torsion spring lift mechanism works. For standard doors, the cable drum is flat with one or two grooves at a higher point and so when the rollers move, they pass from the vertical to horizontal tracks as the cable moves. With vertical or high lift garage door systems, the cable moves closer to the shaft since the drums look different. The whole idea of the torsion spring lift mechanism is to ensure the opening and lowering down of the door. The door is also kept open since the spring is already unwound and the torque already produced keeps the door from falling.